The eagle eyed amongst you might have noticed a brand new website ranking tool called KPMRS.com, Keyword Position Monitoring Report Service. This service is a milestone in keyword search monitoring with additional features to monitor Social networking popularity of your site, Back Links tracking, and even monitoring your website performance on search engines. The striking feature of the site is that it allows you to check your website rankings for particular keywords on popular engines such as Google, Yahoo and Bing, extensively.
Features
Receive email notifications whenever your website rankings change.
Find out how popular is your site on social media websites like twitter, delecious, technorati, stumbleupon, yahoo etc.
Share your rankings with your friends and groups on Facebook.
Check backlinks to your website.
Flash Charts to show your search engine rankings between any two dates.
Share your website ranks with your visitors using KPMRS widgets.
Export & Print your reports in excel or csv formats.
Screenshots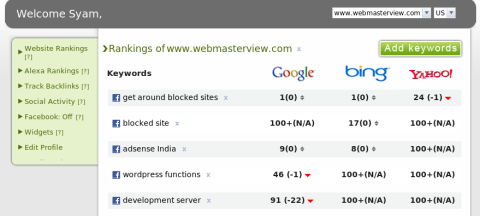 Be sure to log on and find out what KPMRS can do for you!