Binny V A, a freelance web developer based in India, started off his second round of "Plugin Week". Last year, he released 6 WordPress Plugins in a week. He is going to do the same this year.
The first one in the series is Weather Man, a WordPress plugin to display weather info using a sidebar widget or a shortcode.
You can pass zip code or location ID to shortcode to display weather of a city in your blog posts or pages. You can find location ID by doing a search for a city in weather.yahoo.com. For example, search for Kochi, Kerala, India, and check the address bar, you will see http://weather.yahoo.com/forecast/INXX0032.html. The location id is INXX0032. Now you can use this ID in your blog post by using the shortcode like [weather-man INXX0032].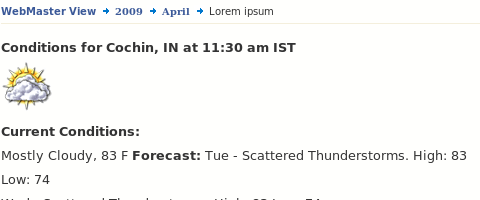 If you use just [weather-man], it will show a form where you can enter zip code or location ID and find the weather information of any city.
Go to Binny's post about Weather Man and download the plugin. Don't forget to subscribe to his blog, so that you can get the upcoming plugins in the series.