Google Adwords disapproved an ad about BarCamp saying, they don't allow ads related to liquor! Kenney Jacob shared this on BarCamp Kerala Group today.
Yesterday I got a very funny call from Google. I had created an advertisement for the event BarCamp Kerala 10 using google adwords and was waiting for approval. This lady calls me up and apologized saying that they cannot approve the ad saying that they have a policy against ads related to liquor. I tried talking some sense into her explaining the about the event asking her to 'google' about it etc. But she refused, she demanded that the only way to get the ad running is to change the name and the url. Can you believe this, a company as reputed as google making such stupid stand on an event which is conducted all over the world.
The email they sent to Kenney (Screenshot):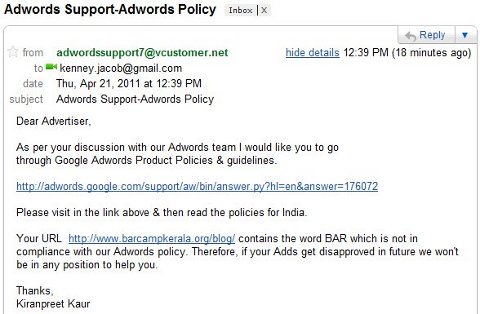 VCustomer is Google AdWords partner in India, working on behalf of Google to help advertisers.
This was the ad he created with Google Ad builder and tried to get approved :