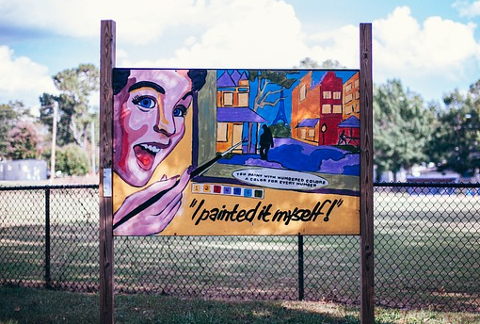 Yes, we all know that display advertising can be annoying. A report shows that 30% of Internet users say they find traditional banner advertising distracting, while 92% of online ads aren't even noticed. But there is a catch here: banner ads drive conversions.
According to research, the average CTR for a display ad is 0.35%. This may not seem like much at first, but it's still more than enough to earn you a sufficient return on investments. However, the real question is how to design more clickable ad banners.
In this post, we will present you seven features that will make your banner advertising efforts more effective. Let's take a look!
Respect banner structure

Display ads creation is not a new thing, so you just need to follow the same old concept. Well-structured website banners are easy to build since they consist of three basic elements:

Brand visuals: All ads contain a company logo that raises brand awareness.
Unique selling proposition: A banner gives you just enough room to explain what makes your offer so special and different than competitors' offers.
Call to action: It's a conversion driver that needs to sound engaging while using only a minimum of textual content.

Choose the right size

Banner ads come in different shapes and dimensions, but there are a few solutions that proved to perform the best. These are the most effective options:

Large rectangle: 336×280px
Medium rectangle: 300×250px
Half page: 300×600px
Leaderboard: 728×90px

The four banner types we mentioned above perform well when embedded within or above text content, but they also drive conversions when placed at the end of articles or on forum sites.

Make it simple

Simplicity is the ultimate goal in banner advertising. Here's how Markus Jefferson, a web designer at finanz4u, explains this process: "When it comes to display advertising, keep in mind that less is more on most occasions. Banner elements redundancy means that users won't be able to notice the most important features – unique selling proposition and CTA."

For this reason, it is critical to focus on the essentials, especially if you know that users will be seeing your ads on multiple devices with different screen dimensions. The simpler you make it, the better it will perform.

Mind the readability

As we already mentioned, banner ads come in different shapes and sizes, so it's important to ensure maximum readability. The font you choose must be easy to read and aligned with the overall branding strategy. Letters must be large enough to be recognized within seconds, while the font size of the headline and body copy should not be the same. Avoid cursive or any other visual trick that makes users confused because you have to allow them to figure out the offer at a glance.

Have a clearly defined frame

You've probably noticed by now that ad banners are supposed to grab users' attention with elements such as bright colors and attractive headlines. However, this is not possible to achieve if you don't distinguish ads from other website features.

Most designers solve this problem by adding a dark border around the banner to make it stand out from the rest of the content. Border color should directly contrast website background – like black against white – to maximize the visibility potential. And if you position it near the main page content, rest assured everyone will notice your ads easily.

Use relevant imagery

This is where banner design becomes more complex and more creative. Visual content can make ads extremely attractive, but you have to find the most suitable option to promote the brand. Everything is allowed – from images, over animations, to graphics.

Make sure to align it with the branding strategy in general, highlighting the already-established visual identity of your company. Doing so, you will inspire more website visitors to click your ad and convert eventually.

Make it look credible

This is the last, but certainly not the least important tip on our list. People don't really trust advertising, particularly if you promise impossible things or offer unrealistic problem solutions. Keep the tone of voice upbeat but authoritative and convincing.

Don't use extravagant colors or imagery unless you really believe it could make the difference and drive conversions. Let your banners look credible to the potential customer and find the way to approach the target audience without promising more than you can deliver.
Conclusion
Although a lot of people hate display advertising, digital banners can actually bring you substantial profit if you design them properly. It's only a matter of strategic planning and quality realization, so you should learn how to craft a perfect online ad.
In this post, we showed you seven tips to design more clickable ad banners. Don't forget to use them in your future campaigns – they could make your banners more attractive and drastically increase conversion rates.