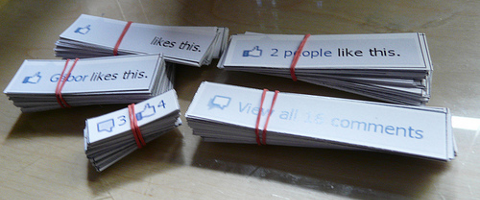 Photo by gábor
Consumers who are exposed to advertising via social media are more likely to increase their spend on products that synchronise their advertising with broadcast and new media campaign strategies.
The results of a survey – the Integrated Social Media Sales Impact Study – carried out via Ogilvy and ChatThreads at fast food restaurants between January and May this year yet again show that integrated advertising and marketing campaigns which include social as well as print and broadcast channels produce the greatest effects when it comes to driving up sales.
Starbucks' Facebook page gets 3 times the traffic the corporate website does and ChatThreads survey seems to suggest that this social media exposure alone can have an effect when it comes to over the counter revenue. While the survey is concerned primarily with fast food restaurants it's not unreasonable to conflate the data from this study with published figures from businesses such as Groupon that social media alone can have a great deal of influence on spending habits.
When those exposed to social media advertising and friendships were compared against those who were not and those who had been exposed to a blend of new and traditional advertising, those who had 'engaged' with the company online alone were anything up to 700% more likely to make a higher value purchase than those who saw a mixture of messages.
Where social and advertising hoardings were factored together there was approximately double the likelihood of greater spend (although the conscious affect that billboards have is not easily quantifiable).
Where Social and TV advertising were examined together, this again produced double the likelihood to increase spending. Where social was factored with editorials and news it was found that the individuals would spend 17% more week on week than the respondents who didn't use twitter, Facebook et cetera.
ChatThread's founder and Chief Researcher, Dr W. Carl said that: "As we captured detailed information at the moment of the consumer's point-of-view we were able to follow day to day brand exposure and assess the interaction effects of various marketing initiatives."
Many retailers overlook the marketing opportunities that are available by integrating their social and traditional media marketing strategies. It seems that e-commerce, social, print and broadcast are seen as being different entities which, while acknowledging one another, fail to tie up together properly. In conjunction with this, they fail to recognise the potential to synchronise their ecommerce and high street retail activities. What they end up with is three different fields of activity which could very easily be unified into one cohesive and coherent brand dynamic which should drive up sales while being cheaper to run than the current disparate endeavours.