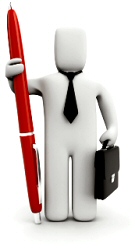 As the size of business increases, the need for ways to organize documents becomes essential. Not only do big Fortune 500 companies require additional administrative support, but small and medium-sized firms also do. Misplacing information is a bad occurrence that can ruin the productivity of any workplace.
The contract is one type of document that most businesses try to protect from harm. To avoid violation of contract terms, it is wise to keep these documents in tact via a contract management system. When looking for effective digital contract management software systems, companies should consider digital creation and storage of their contracts as well as online payment and tracking services.
Contract Creation
Companies create contracts for purposes that bring together suppliers and vendors. Because of this every client's information must be safe and secure. Digital contract management software enables companies to develop legal/binding agreements accurately and quickly using a variety of templates. Therefore, documents can be easily customized and designed to meet requirements for each client.
Contract creation contributes to the ease of data accessibility, which makes administration of contract planning and procurement faster. Often it is necessary to draw up different versions of the same contract; so, with digital contract management software, it is never a hassle. Clients get faster, more reliable service as a result.
Contract Storage
In the past before the information age, contract maintenance required filing cabinets and much office space. Workers had to literally sift through piles of folders to find contracts, and then they had to manually sort and file those same contracts again. Now, because of the capacity and flexibility of electronic files, collecting, arranging, and storing contracts into one system is simplified.
Digitally recorded files of contracts facilitate procurement and record keeping. Workers can spend less time and energy on the upkeep of files, while they take more time to handle core business needs within their company. By getting rid of bulky hard copies of contracts, companies save not only time, but money, and clients trust the security of the company's contract management even more.
Contract Payment Services
Next, one of the basic features of digital contract management software is the administration of contract payment services. Companies really spend a great deal of time establishing methods of payment for the services that they render. Because this software enables workers to keep track of client, vendor, and supplier payments, it expedites workflow, which leads to higher productivity in the workplace.
Furthermore, digital processing of contract payments reduces the tasks of office personnel, allowing them more time to do research and conduct marketing. Most contract management software has email programming for the purpose of maintaining contact with clients and vendors. As the software keeps track of the amount of money owed for the life of every contract, companies benefit greatly and can use statistics to improve business practices.
Concluding Remarks
Since the contracting process facilitates company standards for accepting and making payments, it must be seamlessly integrated. A good contract management system will help a company to purchase goods and services at reasonable rates. In so doing, digital software can lead to stronger partnerships that build more efficient strategies and operations. For these many reasons, most successful companies adopt digital contract management systems instead of slower, conventional ones.