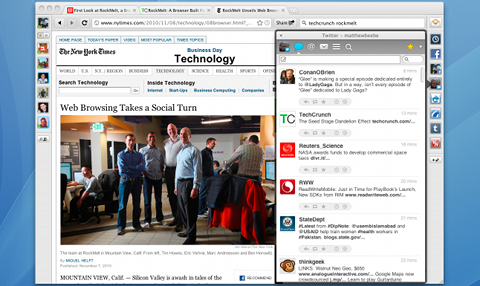 Do you find yourself constantly checking your Facebook or Twitter page for updates? Perhaps you watch more YouTube videos than should be considered healthy? If so, you've got the social network bug, but thankfully there is an easy cure. Last November a team of developers took Chromium (the source that Google Chrome is based on) under the knife to give it a face lift and provide it with a few much needed social networking upgrades. The result is a browser that will satisfy even the biggest Facebook hounds in the pack.
Built From The Facebook Up
One of the biggest advantages of RockMelt is how Facebook is integrated within the browser. Along the left hand side is a small sidebar that contains all of your Facebook contacts and clicking each of their pictures will pop out a sidebar that will show their latest updates, links, notes, and photos. You can organize this sidebar to only include the contacts you are interested in, as well as hide contacts that you do not want to appear in your update timeline. The advantage of this layout is that it gives you control over whose updates you see, so your feed is not cluttered with apps and other junk.
RockMelt Will Set You All A-Twitter
Of course, a social networking browser would be nothing without the inclusion of Twitter, which is why along the right hand side of RockMelt you will find your Twitter feed, as well as your RSS feeds for various other sites including Flickr, Gmail, Remember The Milk, and any other services you might use. Twitter updates are a snap and RockMelt provides an easy way to upgrade your social status within the browser by clicking a small "Share" link at the top of the browser. This will share the pre-shortened link via Twitter and give you the option to add your message all from the browser.
How Does RockMelt Compare To Other Browsers?
In terms of functionality, RockMelt is very similar to Chrome. Both browsers are built using Chromium as their base, so any extensions that work properly in Chrome should also work well within RockMelt. This is a big advantage for Chrome users who are already familiar with how the browser works and want a little bit more social integration when it comes to their browser.
Previous closed beta versions of RockMelt took a while to start up due to requiring Facebook authentication each time you logged in, but the RockMelt team has addressed this by providing a means to save the information and allow you to start the browser instantly while the browser logs into Facebook in the background. This is a huge improvement since one of Chrome's boasted features is how quickly it starts when compared to Firefox or Internet Explorer.
So Is RockMelt For You?
While the social media features offered within RockMelt are great, sadly the browser is probably not for everyone. Unless you use Facebook heavily, you might be happy with settling down with a vanilla version of Chrome and installing other extensions as you need them. However, if Facebook is something you check daily and you constantly update your Twitter feed, then RockMelt could be an interesting new browser for you to try.
For the technical geeks in the crowd, the performance of RockMelt is very similar to Chrome. Java hosting websites loaded rather quickly and quietly and on par with a vanilla installation of Chrome once the browser was fired up. In addition, the RockMelt developers team takes all bug and crash reports seriously, so if you are willing to test a browser in open beta and provide extensive information as to what was happening during a crash or slow session, it will invariably help the team identify problems within the browser.
Overall, RockMelt is a great browser that is comparable to the likes of Flock, which is based on the Mozilla Framework. If you love Chrome but you need a bit more social interaction within your browser, then give RockMelt a try. You will likely find in it a good solid browser that will cater to your searching needs while providing you with instant access to your social networks no matter whether you are a college socialite keeping up with the times or an ASP hosting developer looking to expand your network.