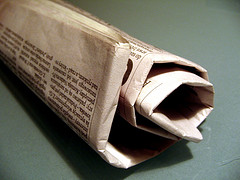 Photo by Nadia Szopińska
Larger businesses usually have an employee or a section within their organization that can write effective press releases, but smaller businesses usually don't have anyone on staff who can write a comprehensive and concise press release, and the businesses lose an important—and free—advertising avenue. Fortunately, write a good press release isn't as hard as most people think, and a few guidelines help eliminate the intimidation factor.
General Overview
You will be sending your press release to newspapers and other publications. The person or people who receive your notice also receive potentially hundreds of others every week. Help promote yours from the discard pile into the "consider for publication" pile by keeping your press release neat, short, concise, and informative.
Unless you are sending your press release to industry-specific distribution sources, do not use specific jargon. If your intended audience is the general public, your phrasing will not keep their attention, for they will believe it doesn't apply to them.
Keep your press release within 300 to 350 words. Longer press releases generally ramble or attempt to present too much information, and if you are lucky enough to get it published, you will still lose your audience.
Title your press release last. Concentrate on the "meat" of the project first. Apply a snappy title, the "gravy" after you finish the content. More on the title will be presented later—after the content portion.
Format
While there is no "engraved in steel" formula to writing a press release, using the image of a reverse pyramid for the content can help. If necessary, actually create one on scratch paper and equally divide the space into three levels.
Label the top floor your General Information tier. The middle level is the Credibility area. The bottom and narrowest section is the Detail area.
In your General Information area, you will start with the city, state and date of the press release. Note in capital letters when you want it published. For example, note "FOR IMMEDIATE RELEASE" or "FOR RELEASE ON SEPTEMBER 15, 2011." Don't include the quotation marks, of course. If your press release is for later publication, don't send it more than two weeks in advance, if that. Allow a minimum of one week, however, for the publishing source to plan space for it.
Include in this area the name of the business, the event you are announcing, and a brief segue into the reason the event is being held.
In the middle section, you present your "bona fides." Convince your reading public that you are a credible source and the information is reliable. If you are announcing the opening of your business, tell the reader what you hope your business will contribute to the community. If you are announcing a grand opening sale, announcing that, for example, 25 percent of all sales that week or weekend will be donated to a local charity creates the image that you are community-oriented and that you want to improve your town, just like they do. You become a credible entity, not just an interloper.
In the bottom section, you list the specific address of the event, hours and contact information. Include names, email addresses, business phone numbers and fax numbers. If you have a website, include the site URL. Provide as much detail as possible.
The Title
Once you complete the pyramid of information, you have a solid representation of the event in print. Now it's time to create your title.
Put the main intent of the event in the first part of the title. That's what will get people's attention. Don't make it a long title; use only as many characters as necessary. Keep your title, including punctuation and spaces to less than 125 characters if at all possible. Make your title thrust within the first 90.
When you are finished, proofread bottom to top, sideways and upside down, figuratively speaking. Mistake-riddled released never get into print.