The Verge is a relatively new tech website featuring reviews, news, interviews and videos in the grand tradition of sites like Wired, Engadget and Mashable. Founded by some of the more prominent members of Engadget included editor in chief Joshua, the Verge quickly became a hit and has managed to build a loyal readership in seemingly no time at all. The reason? Well a lot of it is likely down to the design choices on show at the Verge, though the content probably helps too. Let's take a look at what this new tech site does well, and what we can learn from it when it comes to designing and running our own online enterprises.
The Logo
One of the first things you notice about The Verge is its logo. This is a very simple but easily recognizable image that consists of nothing more than 'The Verge' written in a fancy black font (with optional Pink Floyed-esque triangle to go with it). The great thing about this logo is that it's versatile to be used anywhere, but also sticks in the mind and evokes a sense of style and quality. This banner alone marks The Verge out as being a little different and that means that you're more likely to come back after your first visit.
The Home Page
When you land on the home page that isn't all you'll find striking. One of the other great design choices is the way they display their posts and recent articles which are presented in a series of coloured tiles almost reminiscent of Windows 8's 'Live Tile' UI. Unlike Windows 8 though, the colours are transparent with images underneath giving them a bit more depth while still being striking and making each topic stand out from the other (and providing enough contrast for the white text to read clearly over the top).
The Articles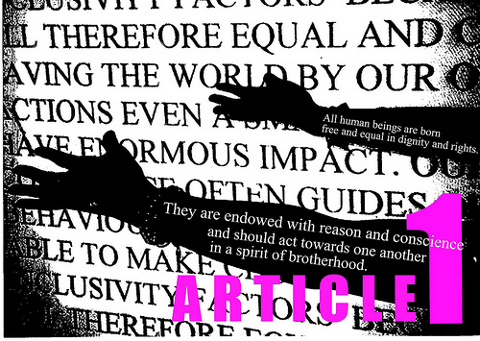 Image by Val Kerry
The articles themselves are also laid out with a similar sense of style and verve. Not only do they all feature high resolution images (sometimes laid out attractively across the top of the article), but they also have a unique and clear font, large quotes to break up the text and different colours for sub headings and links. In short the inside pages look more like articles in a magazine than your typical website posts.
What also helps of course is the fact that these articles are well written and a lot longer than the articles on say IGN or Engadget. This allows them to provide more in-depth information, and has also been shown to be preferred by Google. The articles also take a more interesting angle on technology and cover a broader range of topic than many sites and seem to understand their target audience – one article on 'Biohacking' (putting magnets under your skin) for instance was completely unique to the Verge but bound to make fascinating reading for anyone who considers themselves a fan of technology.
What it ultimately all this ultimately means is that if you could be reading an article anywhere such as a review or a piece of news, you'd probably choose The Verge over your other favourite sites – because you can get more information from it, it will be better presented, and it will be a generally more pleasant reading experience. Couple this with the authority that the good design and logo grants the site, and you have a definitive resource. So how can you make your site into a similar definitive resource?